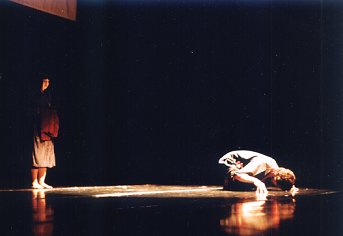 "On the Lake"
Choreodrama that combines the elements and inspirations of Chinese tradition with contemporary Western references, based on a fixed choreography with improvisation techniques creating archetypical associations and poetical layers of dance. First performed at "Body Shop" 2002, Bitef Theatre in Belgrade, Serbia.
Dancers: Ivana Elezovic, Marko Milic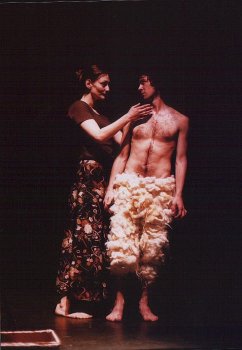 "Aska and the Wolf"
Choreodrama based on the story written by 1961 Nobel Prize winner Ivo Andric.
When she finds herself facing death, sheep Aska - a little ballet-dancer - starts dancing in front of the wolf who gets carried away by Askas beautiful art that saves her life. This choreodrama is a growing project which started in 2004. First performed at Festival of Choreographic Miniatures in National Theatre Belgrade, Serbia.
Aska: Marko Milic, Wolf: Danijela Vuckovic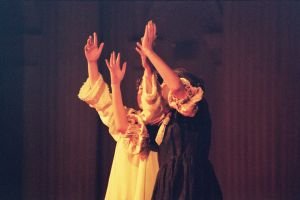 "The Tower of Hearts"
A children play based on an old Indian story about good and evil. It was first staged for the Festival of Multidimensial Theatre Pokus in Student Cultural Centre in Belgrade, 2002. Later, "The Tower of Hearts" was performed in children hospitals and nursing homes.
Performers: Ivaa Elezovic, Danijela Vuckovic, Marko Milic, Daliborka Janjic, Sanja Cekov and others